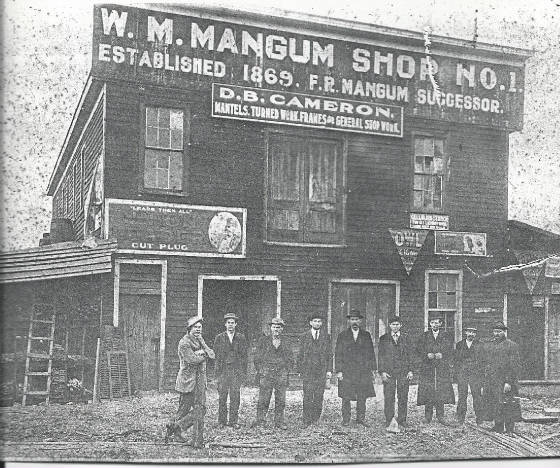 The above photo was taken in Durham, NC (date unknown--maybe 1920s/30s). (Left to right) (1) James Oscar Maynor (2) unknown (3) George Melton Maynor (4) unknown (5) John Joseph Maynor (6-8) unknown (9) E. Frank Riggs.
Other surnames found on this page: Addison, Berryman, Carden, Davis, Edwards, Grady, Hamlin, High, Hilliard, Howard, Jackson, Knowles, Lea, Leigh, Martindale, Metts, Overeman, Peed, Pendergrass, Perry, Phillips, Poe, Rigsbee, Riggs, Satterfield, Thomason, Tucker and Woods.

+ Joseph (Josiah) S. Maynor was born 6-11-1842 in Chatham County, NC to William and Chloe Phillips Maynor and died in Durham, NC on 7-6-1917. He is buried at Woodlawn Cemetary. Joseph's death certificate states that his father was born in Sampson County, NC.

1850 Chatham County NC Federal Census

The Mainard's lived on her brother's 50 acre farm in what would be known as the Bear Creek Township.

William Phillips (40), Catherine Phillips (35), Chloe Mainard (42)

Josiah Mainard (6), William Mainard (4), Theany Mainard (3).

1860 Chatham County NC Federal Census

William Phillips (56, Farmer; RE 100; personal 75)

Catherine Phillips (45, spinster, could not read/write)

Clora Manor (52, spinster, personal 20)

Josiah Manor (16, farmer), Wm. Manor (14), Bethena Manor (13)

+married Mary Ann Martindale on 10-25-1860 in Chatham County.

Record in Chatham Marriage Register: Marriage Book No. 1, Page 81:

Josiah Mann (should be Manr) to Moriah Martindale, Z.A. Boroughs, JP.

Mary Ann was born in Oct. 1844 and died in Durham, NC on 5-10-1901. She is buried with Joseph at Woodlawn Cemetary. I "think" Mary Ann's parents might be Bryan and Carey Martindale of Moore/Chatham.

Joseph enlisted in the Confederate Army on April 12, 1862.

Pvt. Joseph S. Maynard (Maness) served with his brother, William Judson, in Co. "E" N.C. 44th Infantry (Chatham County Turtle Paws) in the Civil War. He resided in Chatham County when he enlisted at Bear Creek on April 12, 1862 at age 22. He was present or accounted for through October, 1864.

1870 Indiana Federal Census (Clark County, 1st Ward City of Jeffersonville) (June 16, 1870)
Josiah Maner, 28, m, born NC, occupation "cooper" (the index lists him as Mauer)
Mary A., 26, f, born NC, keeping house
Elizth E., 8, f, born NC (Ellen) ~ Wm. J., 5, m, born NC (James)
Joseph J., 4, m, born NC (Joseph, John J., Joseph M., John M/etc)
No name, f, 2/12, born in March in Indiana (Nancy)

Research Note: The Merrell Phillips families from Chatham/Moore County were living near Joseph and Mary Ann in North Carolina and Indiana. Are they related somehow to Chloe Phillips Maynor?? Merrell's sons were John and Edmond. Census records show:
Merrell Phillips, 62, m, laborer, born NC, and his wife, Elizth (Elizabeth), 56, keeps house, born NC. John & Mary Phillips: John, 22, laborer, born NC; Mary, 21, keeps house, born NC;
Mollie, f, 2, born NC; John L., m, 1/12, born Indiana in May.
Edmund & Lovey (Hilliard) Phillips. Edmond was a laborer, both age 36, born NC & children--all children born in NC except for Lydia: William, 14, laborer; Sarah, f, 13; Chas. M., m, 12; Elizth, f, 10; Isabel, f, 9; Mohalia, f, 4; twins Lovey & Merrell, age 2; Lydia, f, 1/12, born Indiana in May.

1880 Moore County NC Federal Census (Twp. No. 5 Pocket)(all were born in NC)
Joseph Mainer (43), Ann (40)
Ellen (19), Nancy (10), Addie (9), Cora (5)
Emma (1), James (16), John Joe (15), George (7)

By 1889, Joseph & Mary Ann and family were living in Durham, NC on Randolph Street.

1900 Durham NC Federal Census
J.S.M. Maynor, cooper, 56, married 40 years, born March 1844, rents home
Mary A. Maynor, 55, born Oct. 1844, had 12 kids/9 living
Cora B. Maynor, 22, born Aug. 1877, works in cotton mill
Chloe E. Maynor, 19, born May 1881, works in cotton mill (Chloe Emma)
Mary, 17, born Sept. 1882, works in cotton mill (Mollie)
HERALD-SUN NEWSPAPER

DURHAM, NORTH CAROLINA

May 11, 1901

Mrs. Maynor Dead

She Died at Her Home on Randolph Street

Late Yesterday Afternoon

Mrs. Mary E. Maynor, wife of Joseph Maynor, died at her home on Randolph Street, about 4:30 o'clock yesterday afternoon. She was stricken with paralysis some time ago and added to this she was suffering with a complication of diseases. These caused her death.

The deceased was probably little more than fifty years of age and was well known to the people living in that part of the city. During her sickness she stood her suffering bravely and with patience. She left a husband and eight children, four sons and an equal number of daughters.

The funeral service will be conducted from the residence this afternoon at 2:30 o'clock by W. H. Cunninggim, pastor of Main Street Methodist Church. After the funeral services the remains will be interred in the city cemetery. The friends of the family sympathize with them in their trouble and sorrow.


DURHAM MORNING HERALD NEWSPAPER
DURHAM, NORTH CAROLINA
July 7, 1917
MR. JOSEPH MAYNOR
DIED YESTERDAY
Mr. Joseph Maynor died quite suddenly at the home of his daughter, Mrs. George High, yesterday morning. Mr. Maynor was seventy-five years of age, having celebrated his seventh-fifth birthday on June 11. He was a member of the Memorial church.
He is survived by eight children: Mrs. A.A. Woods, Mrs. W.H. Leigh, Mrs. George High, Mrs. A. Carden and Mrs. Alfred Pendergrass and Messrs. J.J. Maynor, G.N. Maynor, and W.J. Maynor; one brother, Mr. J. Maynor and one sister, Mrs. Martin Davis.
The funeral services will be held at the home of Mrs. A.A. Woods on Peabody street and will be conducted by Rev. Harry M. North. The interment will be made in the Markham cemetery on Holloway road.
The pall bearers will be Messrs. John W. Pope, J.R. Pace, Lewis Wilkerson, S.D. Scalf, T.M. Pendergrass and A.M. Stanford. The floral will be representatives of the Webb camp of the confederate veterans, of which he was a member.
Children of Joseph and Mary Ann Martindale Maynor:

+ Ellen (Elizabeth E., Betsy Ellen) b. Sept. 1861 Moore/Chatham County NC married Alfred Pendergrass in about 1886. They lived in Deep River Township (Lee County). Alfred (b. March 1860) was the son of Ewel/Euel (b. 1837) and Amanda Pendergrass (b. 1837 possibly daughter of Wm. & Sarah Marks) of Chatham County, NC.
Children of Ellen and Alfred Pendergrass: (1) Jos. M. (b. July 1886 (2) Willam T. (b. Oct. 1889) (3) Annie E. (b. Sept. 1890) (4) Alfred E. (b. Sept. 1893) (5) Emma L. (b. Aug. 1896) (6) Lula (b. July 1898) (7) Flossie (b. 1903).

+ James W. (Jim) born Jan. 1864/1865 in Moore/Chatham County NC died 6-22-1918 in Durham, NC. Buried at Woodlawn (old Markham) Cemetery. He was a member of the Methodist Church. James married Sarah Rigsbee at the home of James Clements in Durham on 8-28-1887. W. Redmond, JP, officiated and witnesses were J.W. Clements, M.A. Clements, and R.L. Shepherd. Sarah was born 5-10-1866 and died 4-22-1939. She is buried at Eno Primitive Baptist Church in Durham. I do not know who Sarah's parents were.
Children of James and Sarah Rigsbee Maynor: Freddie (b. July 1888); Willie (b. Sept. 1890); Martin (b. 5-8-1983 d. 4-10-1954 buried Eno Primitive Baptist Church in Durham) married Roxie Belle Poe (b. 3-19-1890/1900 d. 6-10-1975), daughter of Alex A. Poe & Tazzie Ellie Poe; Joseph H. (b. 11-10-1900 d. 1-17-1955 buried at Eno Primitive Baptist Church) married Elsie Overman on 1-24-1920--they later divorced); and Mary T. (b. abt. 1903) married (1st) Sam E. Berryman (2nd) possibly a Satterfield.

+John M. (John Joseph, J.J.) b. 9-18-1865 Moore/Chatham County, NC died 4-9-1930 in Durham, NC. Member of Grace Baptist Church and buried at Woodlawn Cemetery. He married Mary Elizabeth (Lizzie) Hamlin on 12-25-1887 in Durham. Lizzie was born 10-6-1868 in Person County, NC, daughter of Henry D. and Mary Addison Hamlin, and died 9-17-1931. (Henry D. Halen married Mary F. Addison on 12-25-1866 in Orange County, NC.)
Children of John M. and Mary Elizabeth Hamlin Maynor:
Three children died young (Florence, Ruby and Turner F.). Other children were: (1) James Oscar b. 4-1-1889 d. 12-3-1967 Durham, NC buried at Woodlawn) married Allie Riggs, daughter of E. Frank and Lucy Hobgood Riggs. Allie was b. 1-11-1894/2-11-1896 d. 7/23/1980 (2) Mary/Annie (b. abt. 1891) married Bernice Edwards (3) Maud (b. 1897 d. Oct. 1967 Greensboro, NC) married Graham C. Thomasom (4) Thomas Cortez (b. 8-26-1899 d. 11-23-1968 Durham, NC & buried at Maplewood Cemetery) married Majorie Eileen Perry 3-23-1921 in Durham. Majorie was born in Wilson, NC 6-23-1902 d. 9-12-1996 in Cary NC. (5) Nellie (b. abt. 1901) married Joe Jackson in Durham (6) Lula (b. abt. 1904 d. Jan. 1991) married Harry A. Knowles, Sr. (d. Dec. 1990) in Durham (7) John Wesley (b. 7-25-1905 d. 7-27-1969) married Helen Howard on 8-25-1925 in Durham. Helen was b. 7-12-1907 d. 6-26-1987 in Durham. (8) Effie Louise (b. ? 1910) married D. F. Grady and lived in Fayetteville (10) Marvin Grant (b. 1911 d. 12-8-1993 in Durham) married Rosa Davis about 1933. Rosa (b. 2-16-1914 d. 9-26-2002 in Durham) was the daughter of James W. and Fannie M. Davis of Granville County.

+Nancy/Nannie G. (b. 1870 Indiana) married Albert F. Carden on 12-31-1890 in Durham, NC. I think Albert (b. 1867 d. 6-6-1941) was the son of F.W. and Frances Carden of Durham/Orange County. Their children were (1) Leo J. (b. Dec. 1892) (2) Norman (b. 1894) and (3) Victor T. (b. abt. 1902).

+Addie P. (b. 1871 NC d. before 1920) married William Henry Lea (b. 1871/1872 d. 1-8-1936) on 10-27-1889 in Durham. William Lea remarried around 1922 after the death of Addie. Children of Addie and William Henry Lea: (1) Lessie (b. 1891) married C.A. Peed, Jr. (2) Earley (b. 1893) (3) Arthur (b. 1896) (4) Hubert G. (b. 1899 d. March 1953).

+George Melton (b. 1-26-1874 d. 5-31-1925 in Richmond, VA) married Sarah Willie Metts on 1-24-1895 in Durham. Sarah was born 10-26-1874 in Franklin/Amherst County, VA to Meichizideck M. and Margaret Metts. Sarah died 1-10-1917 in Durham. Their children were: (1) George (b. 1896 ? died early) (2) Goldie (daughter, b. Dec. 1899) (3) Mable (b. 1905) and (4) Nannie (b. 1907).

+Cora Belle (b. Aug. 1875-1879 d. 5-24-1908 in Durham) married Marian W. Tucker on 5-21-1902 in Durham.

+Chloe Emma (b. 1879/1881) was named after her grandmother, Chloe Phillips Maynor. She married George H. High (b. 5-25-1878 d. 5-28 1917 in Durham) on 10-1-1902.

+Mary/Mollie (b. Sept. 1882 or 5-31-1882 in Durham d. 7-29-1950 in Durham) married Alvis A. Woods on 7-21-1903 in Durham.